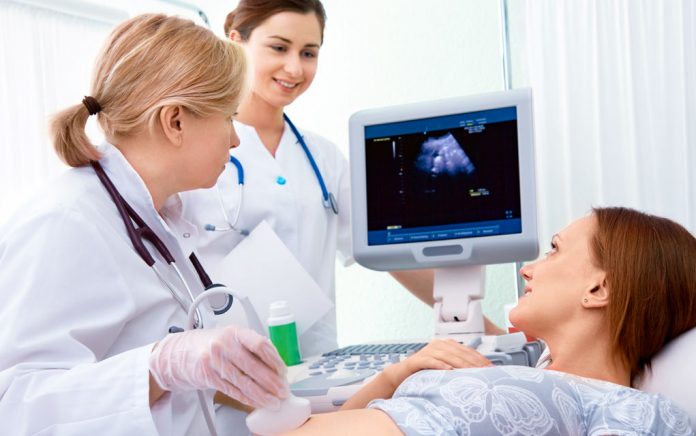 If you're considering a stable career in health care that combines the best of cutting-edge technology with patient care, you may want to consider pursuing a career as an ultrasound technician. Also known as Diagnostic Medical Sonographers, they operate imaging equipment that can capture pictures within the body so doctors can make important diagnoses. Some technicians work in hospital settings, while others choose a smaller physician's office.
You should posses a drive to succeed and also have a compassionate side. Strong hand-eye coordination skills are a part of the job, as you will need to keep an eye on the screen and use the machine on the body being imaged. Attention to detail is key, so that you safely notate and make appropriate, accurate measurements as you go.
Salary and Benefits
The median pay for a Diagnostic Medical Sonographer falls above $64,000 per year. You can potentially make more working in a medical laboratory than you would in a physician's office, but may average a lower pay at a hospital. The highest earners receive over $99,000 per year, while the lowest earners only make under $49,000.
Sick pay, vacation days and sometimes choosing your own hours are just a few of the perks offered to many ultrasound technicians. Like many careers, the final benefit package you receive depends heavily on your place of employment and the number of years you work.
Educational Requirements for Ultrasound Technicians
There are options for education when you're seeking to begin a career as a sonographer. You can pursue a bachelor's or associate's degrees in sonography, but one-year certification classes are also available for those who want to jump right in.
Many colleges and even hospitals offer this program to get technicians started in the field as soon as possible. You may only be able to handle basic images and testing with this certification, such as performing an anatomy scan for an expectant mother. If you wish to become a specialist, such as a Cardiovascular Technician responsible for handling images of hearts, more experience and education is required. Those with a degree are more likely to get paid at a higher rate.
If you decide on getting your degree, you will generally begin with classroom instruction in courses such as Applied Sciences, Medical Terminology, Anatomy, and Physiology, and then complete clinical hours under an experienced technician. Once you earn your degree, you have to go on to pass a test from the American Registry for Diagnostic Medical Sonography and earn your state certification.
A Look at the Future
Potential ultrasound technicians are looking at a positive upward trend. The field is expected to grow by 26 percent by the year 2024. Plenty of opportunities for lucrative careers will be available for the techs of tomorrow. Will you be one of them?