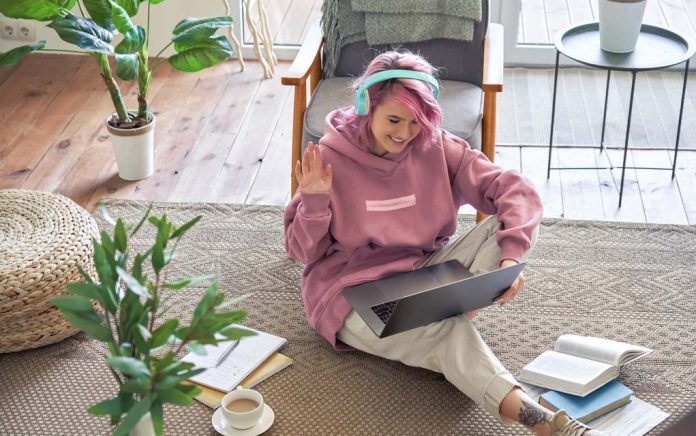 (DegreeAdvisers.com) – Making friends in college used to happen easily. Living in dormitories, eating on campus and just going to class with other students could naturally lead to friendships. Games, social clubs and activities could also provide easy avenues.
With a global pandemic and a shift to more online learning, college students are challenged with studying at a distance without the benefit of classroom instruction. It can feel both isolating and disappointing. Students are left to figure out how to make friends without the benefit of in-person contact.
Here are a few ways to get started.
Use Social Media
Connecting with other students on social media is likely the easiest way to make friends virtually. Whether that looks like joining a class group or sending friend requests to classmates, social media makes it easy to connect outside a classroom. Searching social media for the college or university and any social groups connected to it can easily lead to avenues for interaction and forming new friendships.
Zoom In
Consider using Zoom or another video service to create a study group with other students. This can be a great way to network, study and to make friends.
Don't forget to pay attention in video calls. Noticing details can also open up opportunities for friendship. A participant wearing the shirt from a favorite fandom can connect to another fan. A student with a fun pet that keeps joining in on the video may connect with another pet lover. By being aware and interested in others, students can still find shared interests to bond over while social distancing.
Join the Club
We may all be having similar challenges with social distancing, but that doesn't mean we can't participate in virtual clubs for our interests until in-person meetings can resume. Joining a club can be a great way to make friends who share our interests. Look for the campus clubs meeting virtually or utilizing social distancing techniques to maintain safe spaces. Whether we continue an existing hobby or start something new, this can provide opportunities to meet new people and form new friendships.
Take It Outside
Socially distanced events can still be an opportunity to make friends. Look for events outside that promote mask wearing and social distancing and safely venture out to make friends. Concerts and live shows may still be available in areas where there is room for distancing.
Also, consider socially distanced outdoor activities near campus. Hiking, water sports like kayaking, or even visiting a park could yield opportunities to meet other people while studying remotely. Of course, with outdoor activities, it's important to observe safety practices beyond public health. Hiking alone isn't advisable, particularly in remote areas, and water safety should be observed for water sports.
While virtual college has many benefits, the social aspect may seem like a disadvantage. With a little creativity, we can still network, make friends, and enjoy the full college experience.
~Here's to Your Success!
Copyright 2021, DegreeAdvisers.com