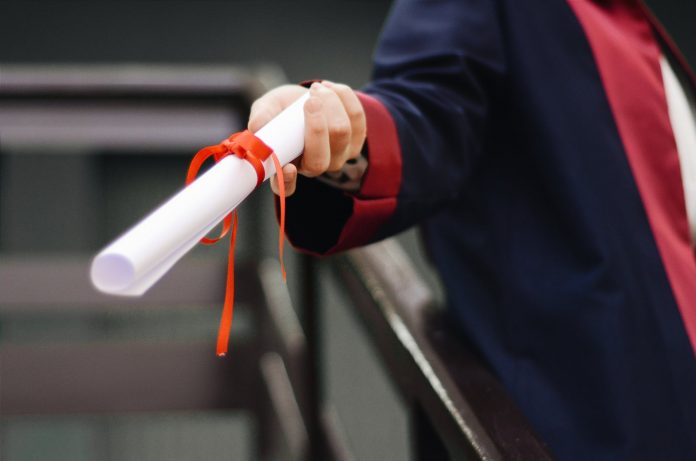 More and more degrees are leaving the confines of brick-and-mortar classrooms and going virtual instead. Online classes have become an attractive, affordable, and convenient option for many learners. But what degrees can you really earn online, and is choosing remote study even the right option right for you? Let's take a look.
Biggest Benefits of Online Learning
The online learning industry grows by leaps and bounds every single year. There's a good reason for that: more students than ever choose this flexible and affordable option. Being able to dial in from anywhere makes it easy for people from virtually all walks of life to get the education they deserve with less stress.
Just check out these incredible benefits:
Learn from anywhere at anytime

Pace your own learning

Enjoy greater accessibility

Save money on tuition, transportation, and materials

Study at any college — even across the country
What you should know is that some degrees are more suitable for the online learning environment than others. We'll tell you more about a few of the best options next.
What Degrees Can You Really Earn Online?
It may surprise you to know just how many degrees you can earn online. While the options were once limited, there are now a vast number of colleges and universities available to help you meet your educational and career needs. 
While the list below isn't definitive, it does give you an idea of the vast range of careers you can pursue with online education. 
Web Design

– With an

8 percent growth rate

and the potential to make up to $70,000 per year, this is an ideal at-home learning path. It can also be a great jumping-off point for other programming degrees.

Nursing –

Surprisingly, it is completely possible to become a nurse from home. You'll still need to work a certain number of hours in a facility before you graduate, but you can complete minimum education requirements online.

Electrical engineering

– Get your bachelor's degree in electrical engineering in as little as four years. Expand your knowledge as you evolve your skills.

Paralegal studies

– Whether you plan to stay a paralegal or want to eventually pass the bar exam, this is another great online degree choice. It's also a decent earner, with a potential median pay of

$52,920 per year. 

Networking technology

– Network IT is growing by leaps and bounds as the STEM industry grows. Get your foot in the door by jumping into learning now. 

Marketing

– Sales are all about finding ways to help people with products and services while making plenty of cash. Marketing degrees are also an ideal choice for self-starters and entrepreneurs!

Software development

– With the potential to make up to $110,140 per year, this is a "big bucks" degree. Some also develop their own software, potentially selling it for millions at a later date.
Accounting

– Love numbers? This is the right degree for you. Help people manage their finances or get employed at a bank after you graduate.
Game design

– Are you a gamer at heart? Learn to craft your own games, including mobile apps, with a design degree. 
Healthcare management

– With the potential to make up to

$104,280 per year,

this is another big-money career. It's also a great choice for people who love to help others. 
Education

– Whether you eventually teach, write courses, or even just tutor online, you can learn to help others expand their skills from home. Teaching English is especially popular right now. 
Animation and graphic design

– Craft cartoons or help companies solidify their branding graphics with this degree. It's the perfect choice for creative techies. 
Cybersecurity

– Help companies and individuals protect their data when you graduate with a degree in cybersecurity. This is one of the

fastest-growing

industries in the country, too. 
Sustainable and renewable energy

– Environmentalists and STEM aficionados can make the most of their interests by studying renewable energy. This includes solar, geothermal, wind power, and more. 
Business administration

– Every business needs solid administrators to help it run smoothly. Choose this fun online degree to help them find the right path forward. 
This list is extensive, but it isn't exhaustive, either. In fact, there are so many great distance learning opportunities out there that there's really a little something for every person. Whatever it is you love, there's probably an option out there for you, too. 
Not All Courses Are Online-Friendly
Unfortunately, there are some courses you won't be able to take online. Fields that require lab works and clinicals won't offer online coursework, while medicine, automotive, and even some art and design courses require in-person instruction to obtain the hands-on skills you'll need to excel. This is typically because they require some kind of practicum, lab work, or a number of hours worked before graduation.
Be sure to ask your specific college or university exactly which degrees you can take completely online and which require an in-class component. Knowing this information in advance can make it easier to structure your schedule, especially if you opt to seek an in-person degree.

But for many learning paths, there's no need to attend in person. You can study in the comfort of your home at your own pace and convenience. Best of all, it's easier than ever to graduate into a career you can truly love. With so many distance learning options available, it's really up to you to choose whichever program fits your dream, budget, and schedule. 
What are you waiting for?