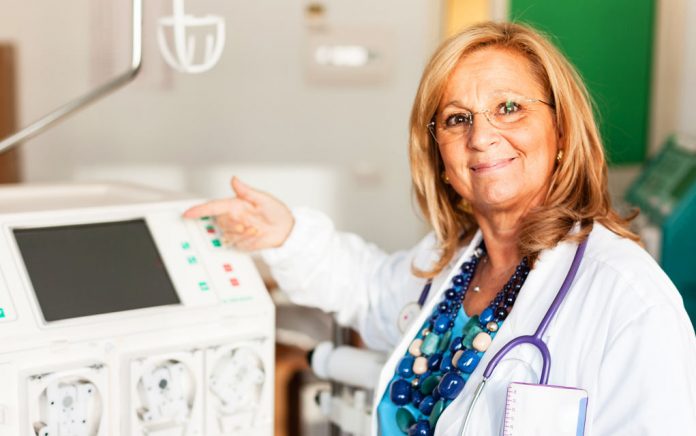 If you are interested in patient care, being a dialysis technician would keep you in the thick of things. Dialysis is a very technical procedure that involves draining, cleaning and replacing the blood in a patient whose kidneys don't work. This hands-on career would be ideal for someone who is interested not only in technology, but in helping real people every day.
Dialysis Technician Education
In order to become a dialysis technician, you will have to attend an accredited school with a dialysis tech program. This typically takes 2 semesters. Once you've completed the courses and received certification, the next step is supervised, on the job training for at least 6 months. Medicare and Medicaid now require that all dialysis technicians obtain certification through the National Nephrology Certification Organization.
Being a Dialysis Technician
Once you've achieved your goal to become a dialysis technician, what can you expect to do each day? Your day-to-day tasks will include:
Greeting patients
Checking weight and blood pressure
Inspecting, cleaning and preparing the hemodialysis machine
Monitoring the hemodialysis procedure while patient is connected
Calculate and adjust fluid removal rate
Maintain patient records
Communicate with nurses about patient condition
Measure and adjust blood flow rate
Perform emergency care procedures such as CPR
A dialysis technician may have several patients at any given time and must monitor each one carefully. Their health will be in your hands.
Projections for this Position
The National Kidney Foundation says that there are more than 660,000 people in the U.S. being treated for kidney failure. Nearly 500,000 of these people are on dialysis. There are nearly 7,000 dialysis centers in the United States keeping kidney disease patients alive while they wait for a kidney transplant.
If you're looking for a career where you can really make a difference in the lives of people, becoming a dialysis technician is a great choice. The techs who work with dialysis patients tend to build friendly relationships — so you might make some lifelong connections and memories along the way.