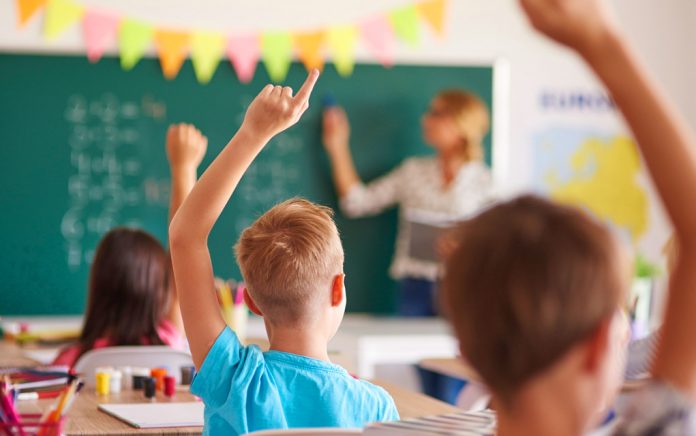 Most people who go into education do it for the joy of teaching, rather than the monetary benefits. That doesn't mean you can't make money teaching, but consider being prepared to make a decision about where you want to live if you're seeking a higher-end income. If you're looking to make a lucrative career out of working in a classroom, be careful to shop around between states. Many states have altered their teacher benefits so that tenure is no longer guaranteed and neither are wage increases based on educational advancement or time of employment.
Teacher Salary and Benefits
Salaries for teachers range from a starting wage of just under $30,000 to more than $70,000. In many states, teacher salaries are now based on performance review, or the success of the teacher's students. This is calculated by standardized test result as well as the pass/fail rate of the students per grade.
In some areas, teachers have summers "off," which is when they usually upgrade their curricula or meet ongoing educational requirements. However, some areas use a school calendar that is more spread out, so students and teachers have more breaks through the year, and a shorter summer. The school year itself is normally 180 days.
Teachers enjoy personal days, vacation time, and are usually offered a health insurance package. Some school districts will also reimburse teachers for meeting ongoing educational requirements. Teachers who work in low income areas can expect to successfully meet the requirements for student loan forgiveness plans developed specifically for teachers, but they also enjoy student loan forgiveness plans designed just for public servants. According to the Bureau of Labor Statistics, the need for teachers from Kindergarten through high school will increase by six percent between 2014 and 2024, with larger classes and more students enrolled.
Educational Requirements for Teachers
The specific classes that teachers need to take will vary with the subject and/or age range of the students they want to teach. While those who pursue a degree in education can expect to earn a bachelor's degree, the exact content of the courses will vary. For example, a future teacher who is licensed to teach K-12 will not take the same classes as one who is pursuing an educational career in high school biology.
On top of the general education classes, you can expect to take classes focused on the core subjects you'll be teaching. On top of the subject matter, student teachers will also learn how to teach and how to make sure they are able to diversify and meet the needs of various students. This means developing intricate and in-depth lessons and lesson plans.
Professional tests must be passed before the student can complete specific classes. These tests are not taken in the college classroom, but are instead taken at professional development centers.
Students who are aspiring teachers can expect to spend some of their time in the classroom, doing student teaching. The amount of time in the classroom varies with the degree plan. For instance, those who pursue double degrees, such as elementary education and special education, will do two rounds of demonstration teaching ranging from 8 to 12 weeks per round.
Safety Requirements
On top of the educational requirements, licensed teachers have to meet safety requirements. A background check must be passed to ensure the safety of the future students. Even some misdemeanors may cause a potential teacher to be denied a license to teach. Teachers must also be certified in CPR and Basic First Aid.
Alternate Route to Teaching
In some states, there is an alternate route to teaching in a professional capacity. In cases where the schools are struggling to fill certain positions, they may take on teachers who have not met the educational requirements that are normally required. However, these teachers still have to have a minimum of a bachelor degree in some subject, and be able to pass the professional tests. They also have to meet the safety requirements and be certified in First Aid and CPR.
Project T.E.A.C.H.
Project T.E.A.C.H. is a scholarship program that is designed to encourage potential teachers to focus on high-need areas, such as Special Education, Math and Science. The program provides financial assistance as long as the student agrees to meet the requirements of teaching for a specific amount of time after graduation. The amount of time to meet the requirements varies with the numbers of scholarships that are provided. If teachers don't meet the requirements, the scholarships are then converted into student loans, which must be paid the same as any other student loan.