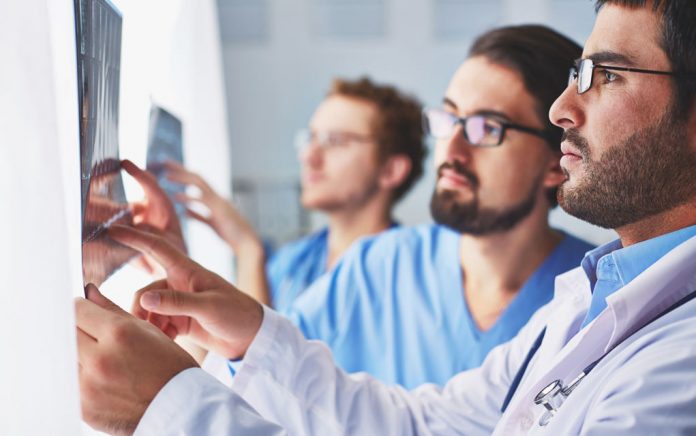 It's no secret that the medical profession is booming and that it's expected to remain strong for the foreseeable future. According to the Bureau of Labor Statistics, healthcare occupations are expected to grow 19 percent during the 10 year period between 2014 and 2024. If you have an interest in both tech and the medical field, you may find your calling as an X-Ray technician.
Education
Sometimes called a radiologic technician or radiologist, an x-ray technician uses special equipment to take images of various parts of the body. Armed with these images or films, a radiologist is able to properly diagnose a patient's condition. In order to be a technician, you should receive licensing by your state and successfully complete a certificate or associate degree program that has been accredited by an agency approved by the American Registry of Radiologic Technologists (ARRT) — such as the Joint Review Committee on Education in Radiologic Technology (RCERT).
Hands-on experience is preferred by many employers, but in order to advance in the field, a bachelor's or master's degree could be necessary.
Specializations
Like most other medical careers, an x-ray technician can become further specialized based on an individual's interest or the demand for a certain skill within a particular region. After obtaining a license as an x-ray technician, a certificate can be obtained in specializations such as interventional radiology, mammography, bone densitometry, angiography, cardiovascular interventional radiology and more.
Salary and Benefits
The Bureau of Labor Statistics reported in May 2016 that x-ray technicians can expect, on average, to make about $28.50 per hour. This translates to an average annual wage of more than $59,000.
The actual salary and benefits realized by an x-ray technician rest on a number of factors, such as the state where they work, level of education, or the type of facility where they are employed. However, most people with this career enjoy benefits such as health insurance, 401K, paid vacation, life insurance, sick days and disability insurance. Other benefits that can make the career more satisfying include the ability to help others, job security within the expanding healthcare industry, multiple options for advancement, and the option to work nearly anywhere you choose.
Although many people envision an x-ray technician working in a hospital setting, there are other environments that need technicians, too. Physician offices, outpatient care centers, federal offices and diagnostic or medical laboratories are just a few other industries that boast a high number of openings for x-ray technicians.
Pursuing a career as an x-ray technician is attractive to many people because the education typically takes only one or two years to complete for an entry level career. Given the high demand for medical personnel across the country, an x-ray technician can be the ideal career for someone who desires flexibility and a positive, fulfilling challenge.